Date Published
: May 8, 2011
Jonathan is a young man, on the cusp of taking his Master's place as

magician

of Third Chapel. Things are better than he ever expected; he's becoming closer to his father, he is in the midst of a blossoming romance, and his magical abilities are growing every day.

And then an exotic stranger named Bixby finds his way to Third Chapel. The faerie is curious about the people that inhabit Caithiir, the great city that stands so close to the woods, and Mother is not around to stop him from finding out what he can.

Mother, however, has been awakened in Bixby's absence only to find that one of her own has openly defied her. Jonathan and his Master are determined to protect Bixby, but the cost may be more than they can afford to lose
Review:
I really loved this book! When I saw the word magician in the synopsis, you know, I kind of squealed a bit and knew that I would love to read this book. I am a huge fan of magic and fantasy.
Jonathan reminded me of Merlin from the BBC show. He was very hard working and was very loyal. I saw

him

grew into a man. (If you know the show the opening changed from "boy" to "man"...yup I am getting teary eyed.) The plot might sound cliche, you know the whole protecting the city and all, but it was so familiar and different at the same time. Some of you might know that my sister is a

bigger

fantasy fan, but I also really enjoy the genre. When I read this book, it felt like home, which is ironic because the setting was so not home.
I loved how well described the book was. I felt like I was transported to the world where magics and castle existed. The emotions of the characters transferred to me. I felt their pain and joy.
The battle scenes were amazing. I totally wanted to bring out my "let's pretend this is a huge

kickass

sword sword" and kick some butts!
The romance was amazing as well! There was a lot of emphasis on friendship, which I think YA lacks these days. So very well done Ken for homing in on friendship. This book totally rekindled my heart for fantasy.
Guest Post:
Authors That Have Inspired Me
I think that just like any author (or even reader for that matter) there have been a handful of authors that touched me at different parts of my life. I'm going to do my best to lay out the ones that I believe have influenced, not only my writing, but my life.
When I was a young boy, I read everything I could understand and a lot of things I couldn't. At the time that I read the Narnia series,

those

books somehow fell into both categories. C.S. Lewis had a special way of reaching out to pre-adolescent me and making me wish I could use my closet to travel to another world. Even if the other world

were ruled

by a mad snow queen. I didn't get the allegory at the time (there was no way all that excitement came from someone who was hiding boring old church in his writing) but I did understand good vs.

evil

. In large part thanks to Lewis, I think I still do.
Then, as a preteen and young teenager, I fell in love with darker stories. Stories with ghosts and murderers and thieves and bad guys that didn't always get caught. I think the Goosebumps stories held my attention for quite some time, but then I found Stephen King. None of my friends read his books (not many of them read books in general to be quite honest) but my dad did. My dad loved Pet Sematary and The Shining and Carrie, and so did I. It was a connection that we held on to right up to the day he passed away. There are a few King books I haven't read yet, but eventually I will get to them all.
Then I came to Dungeons and Dragons and video games that weren't 8

bit

. Lots of action and magic, some of it dark and frightening and destined to end badly. Adult writers like Tolkien and Brooks opened up the world of Fantasy to young adult Ken, in a way that I couldn't believe. As I dove

in to

these books and found things I loved and things I didn't love, I found

other

, new authors I had never heard of. Neil Gaiman was one of those. Neverwhere was the first novel from Gaiman that I ever read, and I have been hooked ever since. American Gods and the Sandman comics and Stardust and oh so much more... Gaiman finds a way to scratch all of my reading itches, sometimes in a single story.
There are so many more writers out there that I love, but It wouldn't be any fun if you didn't have to find some for yourself. So go do that.
Thanks for reading!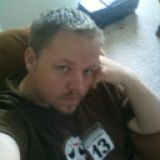 My name is Ken Lindsey, and I am now 30 years old.

I have been writing for as long as I can remember, and will continue to write until there are no transparent pages left for me. I write for myself, it's a release-a breath, and I write for my children. I want them to know that there are other worlds out there, worlds with real heroes, and worlds made up of whatever colors they can imagine. My Big Girl, my Princess, my Baby Girl, and my Baby Boy- they make my world so much bigger.

Recently I published the 2nd edition of my first novel, The River Runes, with a new cover and quite a few edits that I am very excited about.

I have also started working on my second, Clockwork Charlie. It's a new venture for me, and I'm stepping out of my comfort zone on this one.

In the times between, I write short stories, and even dabble in some poetry. If there's anything else you'd like to know, feel free to ask.
Want your own copy of the book?




So what do you think?
Now for the giveaway!
a

Rafflecopter giveaway