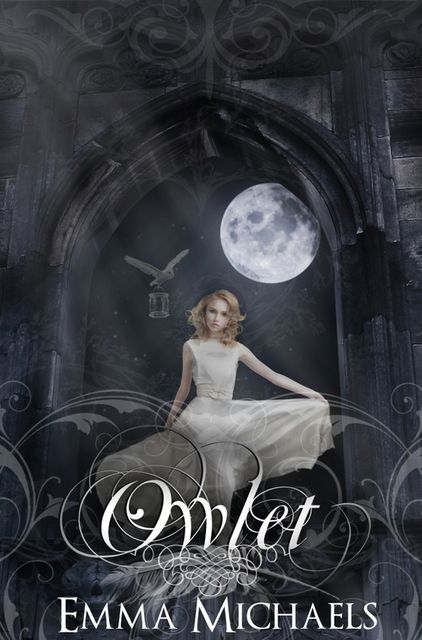 Owlet Summary
Somewhere between falling and flying… there is a girl.

Iris has a secret. She lost her memory eight years ago and never told a living soul. After an asthma attack one night she finds out that her dreams of a strange house on a snowy island may be a memory resurfacing but the more she learns about the past the more she realizes the life she has been living is a lie. As the façade her father has built starts to crumble around her she will have to decide which means more to her; the truth or her life.
Emma Michaels' Bio:
Emma Michaels is the author of the 'A Sense of Truth' and 'Society of Feathers' series. Her goal with her latest YA novel 'Owlet' is to give others what she did not have growing up; a strong female protagonist with asthma. While her previous aspiration was to be a lady knight she realized that not being able to run more than a few feet might become a hindrance so turned to writing instead. Her day jobs include being a cover artist, marketing consultant and silk screen designer.

As the founder of The Writers Voice blog (http://OurBooksOurVoice.Blogspot.com) she loves to connect authors and readers. As a book blogger turned author, she was born and raised in Los Angeles, California, until she moved at eighteen to Washington State. Suddenly, the world was a new place filled with tall green trees that reached further for the sky with every moment, making her want to do the same. Ever since, she has tried to make her life something new and different from what it was before, pursuing her future career, setting high goals and reaching for them. With the support of her fiancé, Chihuahua, and her amazing blog followers and fellow bloggers, she wants to prove to the world that anything is possible and help inspire fellow literary lovers to reach for their dreams.

eBook
ISBN: 9780985792213
ISBN: 9781476473338
Pages: 170
Release: October 13, 2012

Buy links go live on October 13, 2012. PDF buy link is live and available for pre-orders.
"There is something I have to tell you both." Normally her father would never speak when Diana was concentrating on removing the tubes. He knew Iris would be in pain.
"Wait." Iris said once the tubes were out; her voice still sounded more like a frog croaking English, and that one word had made her throat feel like it was on fire.
"You are wondering why Diana is home." Roger said, his voice commanding but caring as always.
1. If you could work with any author who would it be?
Dia Reeves. She has such a unique style and I just adore her novel Bleeding Violet.
2. Who is your favourite author and is you writing style similar to theirs?
Tamora Pierce has been my favorite for a long while. I don't think I have a very similar style but reading her novels definitely affected my life. They are a wonderful escape from reality.
3. What's your favorite part of a book?
The crescendo. That part where you can't stop reading or you will go mad wondering what will happen next. Though I am also a huge fan of overall character arcs and growth.
4. When naming your characters, do you give any thought to the actual meaning?
Yes. Iris was originally named Serenity for the serenity prayer. Then as I went on I decided to rename her Iris after the myth.
5. How do you get started with writing a story (as in, how do you start developing the story, how do you get inspired for it)?
My story ideas normally come from very strange places. I have one idea that is a standalone I am currently working on that came from a red four leaf clover. I tend to look at the mundane and see the extraordinary.
6. What advice would you give to people who "run out of creativity" when writing?
Listen to music, watch the movies you don't normally watch because they make you too emotional, do something you haven't done since you were a kid so that you can remember what it was like when you used to think of a sand castle as an entirely different world. It will come to you as long as you look hard enough and the more often you call on it, the better you will get at finding it.
7. How long did it take you to publish your first book, after you started trying?
Not very long actually. I just had to get over trying to find an agent and once I started querying small publishers I had positive responses within a few days. Though that is not to say the agent part didn't last YEARS of trying. Queries really aren't my strong suit. I write a novel because there is just too much in my heart, so the idea of trying to shorten it down to a paragraph, and have someone understand, was never something I could fully comprehend until recently.
8. How did you come up with the title?
The title 'Owlet' was thanks to my initial inspiration for the novel. The series title though, 'Society of Feathers' took a while. I ended up searching thesauruses with my best friend for a few hours until we found a title we both liked. It was actually a pretty fun process thanks to her help.
9. Is there a message in your novel that you want readers to grasp?
Sometimes having the world working against you, can make you a stronger, better person and while it hurts to become that way it can also give you a fighting chance. Iris has a past that forced her to change who she was, to learn to understand others and to learn to understand different types of emotional pain and happiness. It ends up being the one thing that saves her from resenting those around her because she can understand their positions and their pain. Though anyone getting a great escape from reality would also be great. :-p
10. What books have most influenced your life most?
The bible. I find that there is a lot of knowledge in its pages for anyone who might read it, no matter what religion they might be. Tamora Pierce's 'In the Hand of the Goddess' was the novel that truly sparked my interest in reading as a hobby and that REALLY changed my life. Having something in my life that meant I could get away from it all saved me.
11. If you had to choose, which writer would you consider a mentor?
This might sound strange but I would actually choose an artist and inventor. Leonardo De Vinci's journals changed my perspective. He invented so much before it came to reality, he say the world around him in such a unique way. It made me realize that maybe when everyone said I looked at the world differently than they did, it might not be a bad thing.
12. What book are you reading now?
'Demonglass' by Rachel Hawkins and I really want to get my hands on 'Eon' by Alison Goodman and 'The Probability of Miracles' by Wendy Wunder. I read the kindle samples and am just waiting until I can get my hands on them.
13. Are there any new authors that have grasped your interest?
Many. I am constantly trying out new books. I am currently really into Gretchen McNeil, Jamie Magee, Cidney Swanson and Jillian Perry.
14. What are your current projects?
I actually keep a tab on my website updated with what I have in the works. I am working on book two of the 'Society of Feathers' series, Just finished book four of my 'A Sense of Truth' series and have a number of standalone projects in the works that I am very excited about.
15. Name one entity that you feel supported you outside of family members.
MY PUPPY! My little Chihuahua is my writing partner. Lol. We sits on my lap reads my work. If she falls asleep I start rewriting. Jk,jk. I would say that I couldn't have done it without God, my fiancé and my pup.
16. If you had to do it all over again, would you change anything in your latest book?
No. I did do it all over again… and again… and again… until I was perfectly sure it was exactly how I wanted it to be. I wouldn't change a thing. J
17. Do you recall how your interest in writing originated?
You know, I thought I knew but then I found all of these notebooks from when I was REALLY young that I hid everywhere and wrote little stories in so now I really can't remember when it started.
18. Can you share a little of your current work with us?
Actually, there is an excerpt of book two at the ending of Owlet on kindle! ;)
19. Is there anything you find particularly challenging in your writing?
Those last few pages because I never want to write them. I don't want the chapter of the adventure to end even if another one is coming soon after.
20. Who is your favorite author and what is it that really strikes you about their work?
As I said above, probably Tamora Pierce. I would definitely say the escapist in me is caught and drawn in by the worlds she creates. There are different rules and guidelines to live by but it is still close enough to our own that I can imagine it fully.
21. What was the hardest part of writing your book?
I spent a few days on the last few pages even though I knew word for word what I wanted to write. I didn't want the story to end! But of course, I finally decided I had to start on book two so went ahead and finished. J
22. Did you learn anything from writing your book and what was it?
Never give up, never surrender! Just kidding, well, partially. Actually, what I learned is to not be so afraid of additional work to make something exactly what you want. I wrote 'Owlet' initially at 150k words which is fairly extreme for a young adult novel. During my rewrites I noticed that the more I worked at it and the harder I tried, the better the writing got overall. Now, I don't wince every time I read my own writing, I actually enjoy re-reading 'Owlet' when I
get stuck in part of 'Eyrie' which is something I never expected to have happen because I tend to always be extra critical of my own work and myself.
23. Do you have any advice for other writers?
Market. I have found a lot of small time authors who don't do much if any marketing. I would say, learn to enjoy the marketing aspects of being an author because once you learn how special it can be to connect to readers it ends up meaning a lot to you and being less about getting people to read you novel and more about those readers as people. Most of my best friends are people who started out as readers and I ended up getting along with so well that we just never stopped talking to one another.
24. Do you have anything specific that you want to say to your readers?
Other than I hope you enjoy 'Owlet' I would like to thank you. You have gotten this far in the interview, you have made me who I am and there would be no authors without readers. A lot of people forget that somewhere along the way but as an avid reader and book blogger turned author, I never will. An author once turned to me out of a crowd and struck up a conversation and I felt like the most special person in the world that my favorite author had noticed me. I remember being that child who was so thrilled and I have read each and every one of her novels since. A person can't get there without someone to read their novel. A novel without any readers is simple paper or ones and zeros. You make my work what it is and you make me who I am. Thank you for making me a better person with so much more belief in the world than I once had.
25. What were the challenges (research, literary, psychological, and logistical) in bringing it to life?
Oh, good question! I actually had quite a bit of the research done. I used to have obsessions with animal based AI technologies and advances and with ornithology so I had a fairly good grasp on the birds aspect though I did do some research to learn what types of birds would make good Aves based off of characters qualities matching in both the bird and human. When I first started writing 'Owlet' though I was working a ghost writing job that required approximately 50,000 words a day so sometimes it was hard to find the time and inclination to type my goals in addition to that but once I realized it was somewhere that I
didn't need to adhere to the boundaries my work put on me it became an escape and now I am practically addicted! I just love it. Writing feels like flying to me; complete freedom.
Thank you so much for the interview and for being a part of the Owlet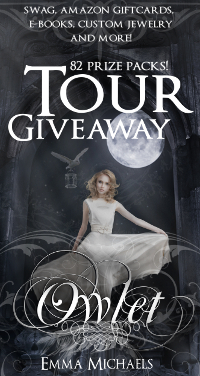 a Rafflecopter giveaway