A New Adult Fantasy
Meena has a secret guarded closely by her family—a secret as dangerous as the sea, and buried just as deep. When court appointed community service workers are assigned to Flukes, the family-owned animal sanctuary, everyone is on high alert. It doesn't help that Meena finds herself attracted to sexy-as-sin Blake Weathering, one of the new workers. If he wasn't so distracting, she might be able to land Flukes a much-needed cruise line contract.
Blake Weathering, the first in his family to attend public school, has developed a tough image. Unfortunately it lands him in trouble. Now banned from his high school graduation ceremony, getting his diploma is dependent upon a community service gig cleaning fish crap. No diploma, no trust fund fortune—and no way to escape his overbearing father. The last thing he needs is the distraction of a mysterious girl with teal eyes who pulls at his heart strings.
When Blake discovers Meena's secret, they are both thrown into a desperate search for information about her past. Two worlds pull them in opposite directions, and they will have to fight to hold onto all that really matters.
Price Drop! Right now Flukes is only $0.99!!
OMGOMGOMG!! When I cover revealed the cover few months ago I knew I wanted to read this book. I love mermaid books, animals and cute romance. Did it match my expectations? Read on and find out.
Meena, to me felt somewhat like a cute little princess. She was curious, sweet, and naive. I pictured her as an older version of
Numa no Himemiko. I mean sure the cover of the book probably is Meena but I like to picture my own characters :P (You will see more on that when you read Blake).
She was also strong. She stood up to jerks but I am kind of bored by strong female characters. So nothing new to the book world. I did felt in love with Blake. And since I started watching K yesterday, I couldn't stop myself from picturing as Yata Misaki. Okay, they probably don't look a like but I just couldn't stop. They both had this bad boy image that just stuck on me.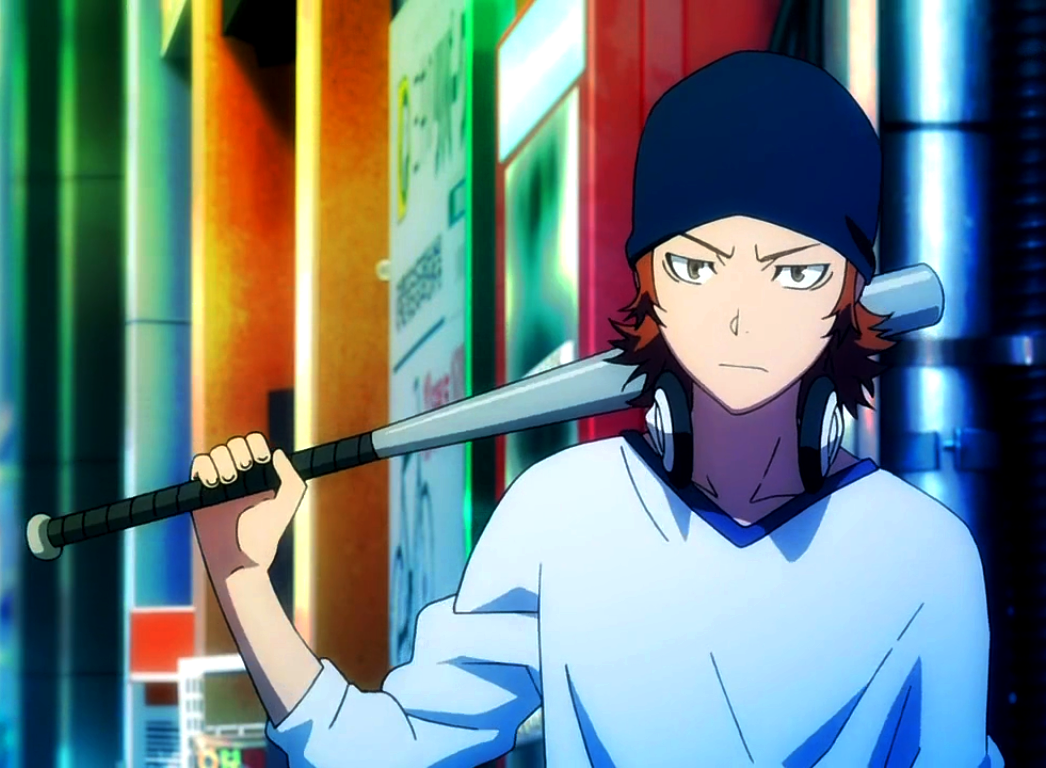 Yata Misaki. Sure Blake probably didn't have fire burning, baseball bat swing badassness but still. :3 And I don't think Blake is that cool. (Yes, Yata, I love you. -Haha, I am actually afraid to call him by his first name. If you watched K, you know what I mean-)
I have to say I am not a big fan of the romance. It was too fast. I know it is a short book but the pace was just not realistic. I mean granted I never dated a real guy before
(;¬_¬)
pff, but you know, I don't think insta-love happens that often. Some scenes were just: "ew that is stupid and creepy, Twilight much?" And sure I know this is a New Adult book but I wish it was a YA. It is not like I cringe at adult contents, it is just I think the book would had been cuter/sweeter if it stayed in the YA zone. BUT there were sweetness too. There were scenes that made me go: "awwww, what a cute pairing".
I do want to mention, like Wake and The Vicious Deep, I think it was great for the book to somewhat involved the parents in. I hate when authors just seemingly "drop" them in the book.
To me this book was readable and it had its good and bad. It didn't have "omg-you-took-my-breath-away" amazing feels, therefore, 3/5.
a Rafflecopter giveaway